How the Torch Lake Sandbar Was Formed
Do you know how the Torch Lake Sand Bar was formed?
First, the glaciers advanced and receded several times.
Over thousands of years, they left a high ridge of sand, gravel, boulders and clay above the southern shore of Lake Skegemog.
Back then Torch Lake was connected to Lake Skegemog in the south and to Lake Michigan in the north.
Ten thousand years ago air temperatures warmed and the glacial period ended. A river formed in the Rapid River Valley which was many times larger and longer than the current Rapid River.
For thousands of years, this old river carried large volumes of meltwater which formed a large delta. The meltwater carried sand and filled the area separating Lake Skegemog from Torch Lake.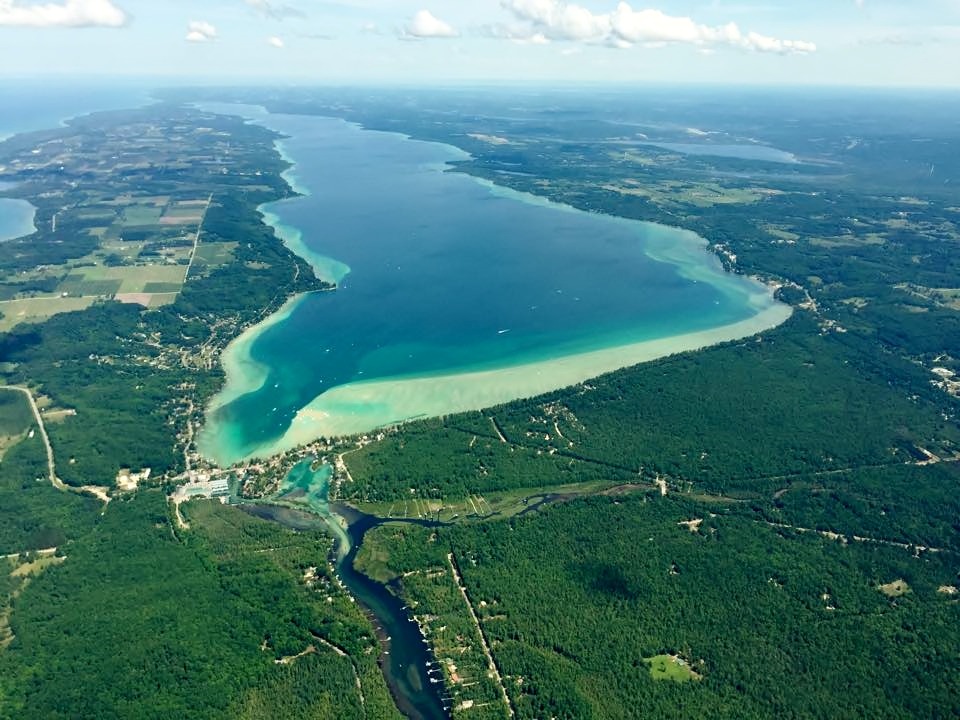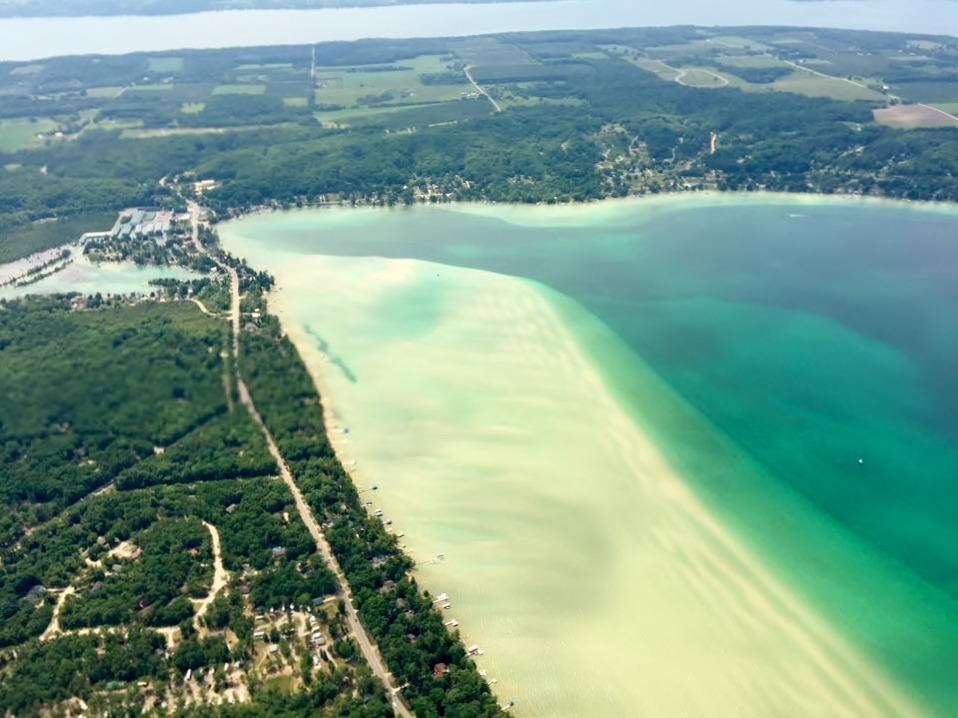 The old Rapid River pushed sand north and formed the Sand Bar on south shore of Torch Lake.
During the lumbering era (1880–1920), Torch River was dredged so tugs could haul millions of logs to Elk Rapids and steamers could take goods and tourists to Alden and other villages around Torch Lake. The sand was deposited at the west end of the Sand Bar.
Sandbar Responsibilities
It's simple…provide a wonderful place to play with family and friends in shallow water on Torch Lake.
Sandbar-goers Responsibilities
Be safe
Go slow– "No Wake!"
Avoid catching your prop on the sandy bottom or other boats' anchor lines.
Don't dive off your boat.
In case of Emergency – Call 911
The Marine Patrol will be contacted.
Be considerate of others
Respect private property. Do not trespass.
Enter and exit the Sandbar from public access sites only.
Anchor near the drop off a good distance from shore.
Keep music and noises to a moderate level.
No overnight mooring is allowed on Torch Lake.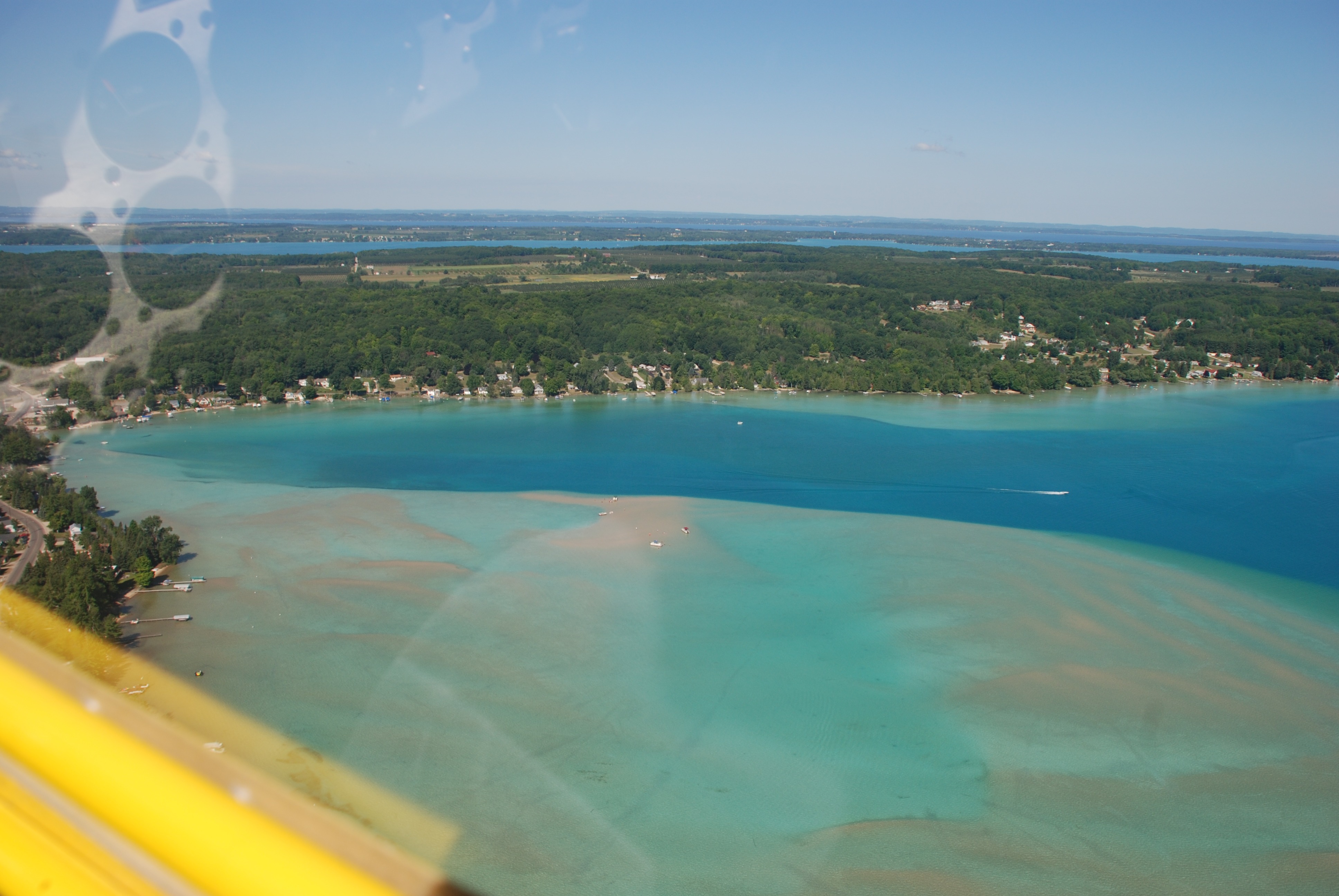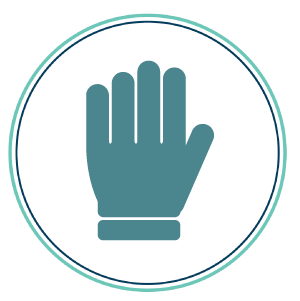 Prevent Problems Before They Happen 
Prevent invasive species
Before you leave home, DRAIN, CLEAN and DRY your boat, trailer and boating equipment.
DRAIN – every conceivable space that can hold water- live wells, ballast tanks, and transom wells.
Follow factory guidelines to eliminate water from engines
Clean water out of kayaks, canoes and tubes.
CLEAN – Remove plant, mud and debris from boat, trailer, motor, prop, jet engines on PWC, anchor, ropes, fenders and paddles.
Rinse boat, kayaks, canoes, trailer, and equipment with water. It's best to use high pressure and hot water (140°F water kills zebra mussel larva) but a garden hose with a nozzle will work.
DRY – completely air dry before launching in new waters- 5-7 days.
Prevent pollution
Please don't "Do it." in the lake.
Use the port–a–potties at the MDNR boat launch.
Pump out your boat toilet.
Marinas on Clam Lake and on Torch River provide pump-out facilities. Don't dump in the lake!
Prevent litter -Leave no trace!
Take your trash with you.
Bring your own bag for wrappers, peels and other trash.
Return bottles and cans for cash at local grocery stores.
Prevent accidents
Drink responsibly.
Be aware that Torch River has a strong current flowing south out of Torch Lake.
Don't make "U" turns in narrow rivers.
Stay 100 feet away from any person in the water, buoys, other boats, rafts, docks and SUPs (stand up paddleboards.)
Report Problems
Emergency – Call 911.
Non-emergency – Call the Antrim County Sheriff: 231.533.8627.
Take down the boat's description and MC Number.
Public drunkenness and indecent behavior will be prosecuted. Ask for the Marine Patrol.
Loud, reckless or speeding boats? Ask for the Marine Patrol.
Wildlife harassment? Ask for the Conservation Officer.
Visit the TRUE BLUE Gallery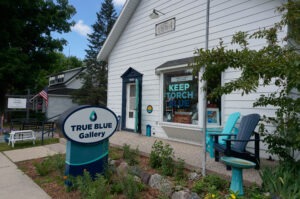 Open for 7th Season
Fall Hours
Thursday-Saturday
11am-4pm
Season closing day October 14, 2023
9046 Helena Road
Downtown Alden, MI
Don't just wish that Torch Lake will stay blue.
Choose a water-friendly lifestyle - make a difference!