TORCH LAKE IS CHANGING!
AND WE CAN SEE IT CHANGING!
More golden-brown algae is growing on the bottom of the lake.
Lake water is warming sooner and staying warmer longer.
Invasive species such as zebra mussels, rusty crayfish, Eurasian milfoil are replacing native species.
Lake trout are not safe to eat due to high amount of dioxin.
Learn More…
Visit the TRUE BLUE Gallery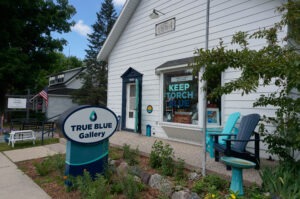 Open for 7th Season
Fall Hours
Thursday-Saturday
11am-4pm
Season closing day October 14, 2023
9046 Helena Road
Downtown Alden, MI
Don't just wish that Torch Lake will stay blue.
Choose a water-friendly lifestyle - make a difference!