Key Facts
As the glaciers advanced and retreated, they pulverized bedrock (granite) into sand and gravel.
They pushed the sand and gravel mixture into the ridges that surround Torch Lake.
Most of the topsoil washed downhill into Indiana and Ohio.
Little topsoil, less than 1 "thick, was left around the watershed.
The sand and gravel formed two types of mineral soils in the Torch Lake Watershed –
Ridges: Emmet-Montcalm soil
Sand dunes: Deer Park-Roscommon soil
A third type of soil was formed when plants such as reeds and sedges died and formed an organic soil:
Wetlands: Tawas-Ensley-Roscommon soil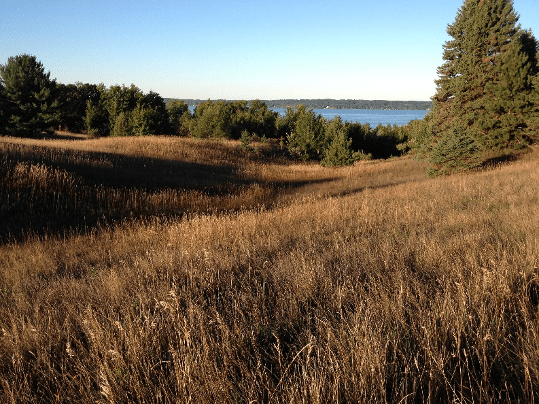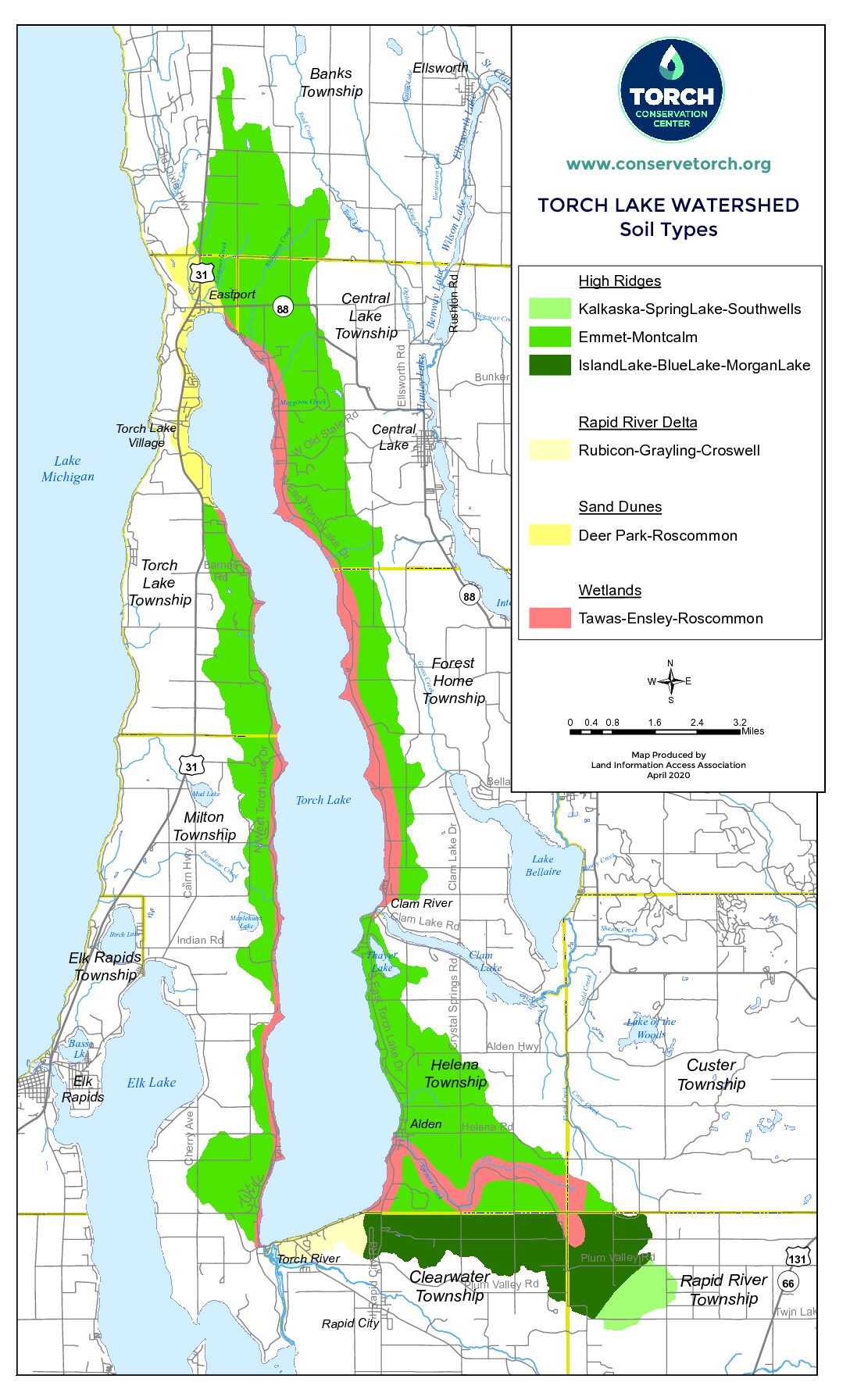 Did You Know?
Our different soils have different characteristics.
LOCATION
SOIL TYPE
SLOPE
COMPOSITION
DRAINAGE
PERMEABILITY
Sand dunes
Deer Park-Roscommon
2-20%
Acid Sand
Excessively Drained
Rapidly permeable
Beaches
Rubicon-
Grayling-
Croswell
0-6%
Black sandy loam over sand
Moderately Drained
to Excessively Well
Drained
Moderate- rapidly permeable
High Ridges
Emmet- Montcalm
3-40%
Sandy loam
Moderately Drained
to Well Drained
Moderately permeable
Moderatel
y High
Ridges
Island Lake-
Blue Lake-
Morgan
Lake
18-
35%
Sandy loam
Well Drained to
Somewhat
Excessively Drained
Moderately
permeable
Very High
Ridges
Kalkaska-
Spring Lake-
South Wells
8-50%
Sandy loam
Well drained to
Excessively Drained
Moderately
permeable
Wetlands
Tawas-
Ensley-
Roscommon
0-2%
Mucky Organic
Soil layer over
Sand
Very Poorly Drained
Moderately
permeable to
slowly
permeable
Soils have physical, biological and chemical properties.
Physical Properties of Soil
Texture
Soil particles are different sizes:

large particles – sand and gravel
medium articles – silt
tiny particles – clay

The percentages of sand, silt and clay particles make up the soil texture.
Soils with different textures have different names.

Most soils in the Torch Lake Watershed are sand or sandy loam.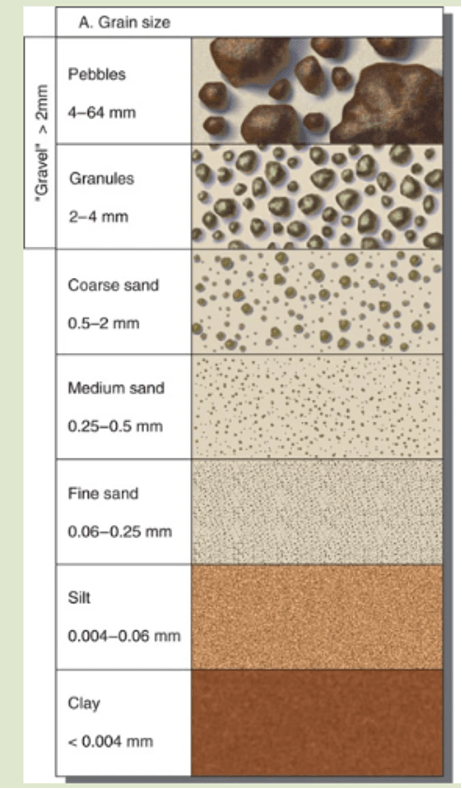 Other Physical Properties of Soil
Water – holding capacity
Nutrient – holding capacity
Porosity – spaces between soil particles
Permeability – the rate at which water infiltrates the soil and percolates downward through it
Large particles like sand have spaces between them filled with air, so they drain easily.
Smaller particles like clay have spaces filled with water, so they drain poorly.
Shrink-swell potential — the potential to contract when dry and expand when wet
Temperature
Aeration — amount of air in between soil particles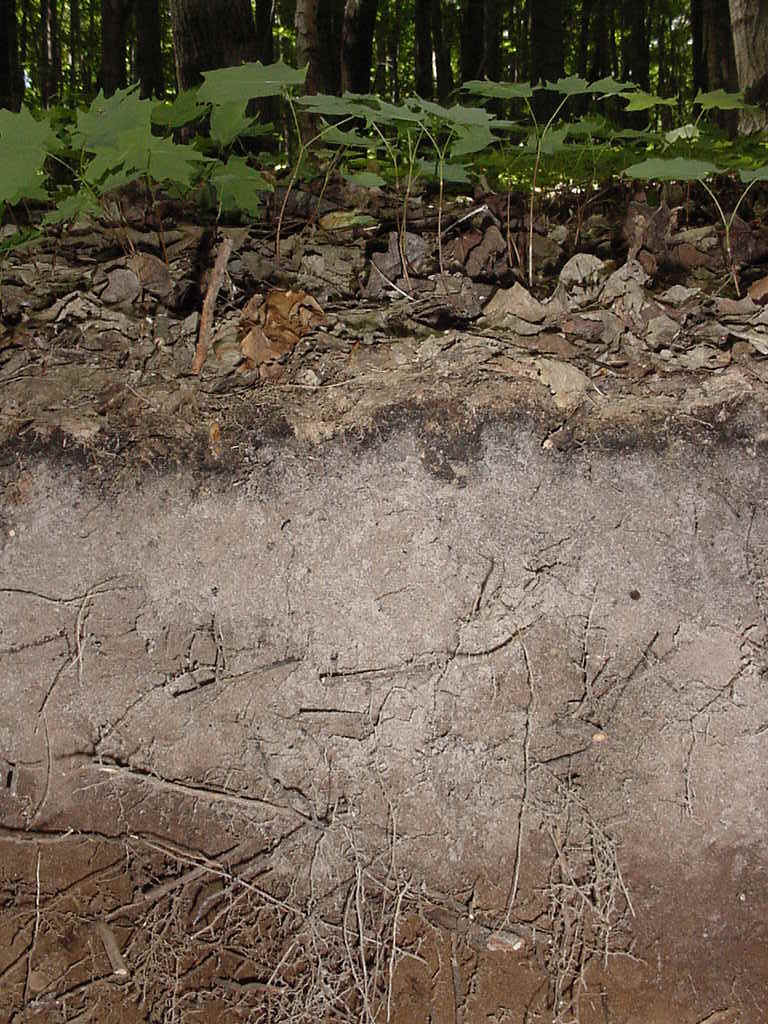 Biological Properties of Soil
Yes, healthy soil is alive.
A single teaspoon contains more living things than the population of Earth.
Living Organisms in Soil
Single-celled microorganisms that decompose organic matter
Multi-celled plants that consume other living and dead organisms
A combination of plant roots and specialized mycorrhizal fungi that infect them to form a network of fungal threads that act as extension of the roots system to greatly increase water and nutrient absorption
One-celled animals that decompose organic matter
Animals with no spines such as slugs, centipedes, earthworms, nematodes and insects that help to decompose and consume plants and other animals.
Animals with spines such as moles, voles, mice, ground squirrels and other creatures that make their homes in the soil and feed on other soil-inhabiting creatures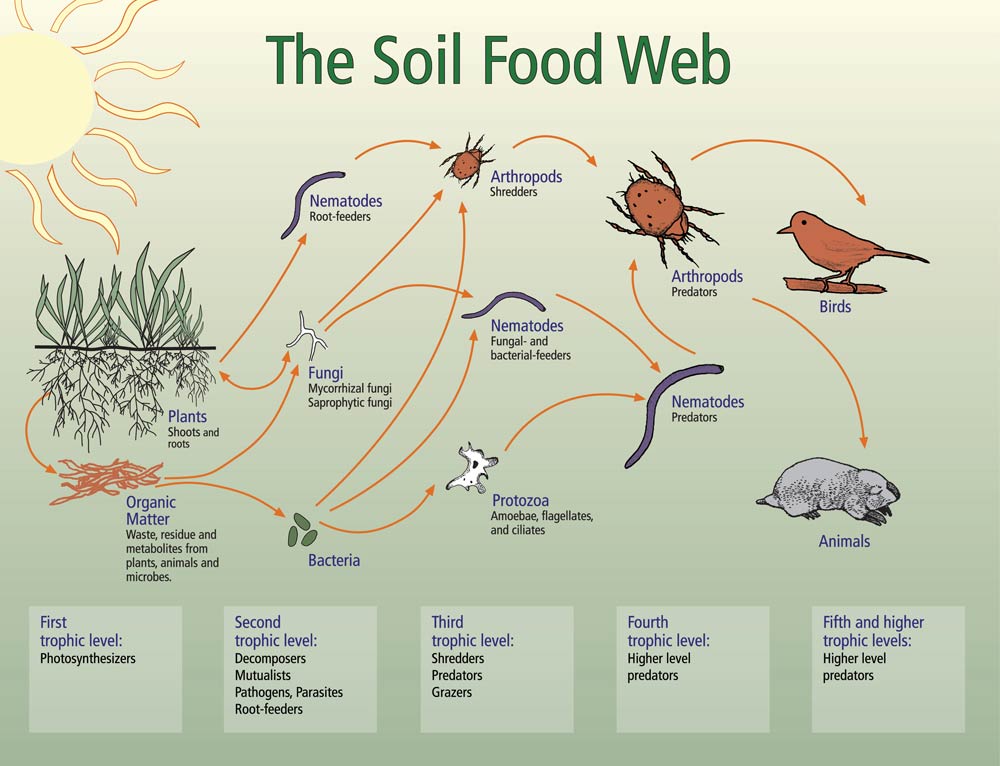 Dead Material in Soil – Organic Matter and Humus
Organic matter – leaves, manure, grass clippings, bark, sticks
Humus – the material that remains after organic matter rapidly decomposes.
It is quite stable and resistant to further decomposition
Benefits of organic matter and humus:
Rich in the nutrient, nitrogen
Acts as a slow-release fertilizer
Increases soil texture
Increases water-holding capacity
Increases nutrient-holding capacity
Chemical Properties of Soil
Soil pH indicates whether it is more acidic or alkaline.
Plants require 16 essential nutrients to grow and develop.
Macro-Nutrients
Calcium
Carbon
Hydrogen
Magnesium
Nitrogen
Oxygen
Phosphorus
Potassium
Sulfur
Micro-Nutrients
Boron
Chlorine
Copper
Iron
Manganese
Molybdenum
Zinc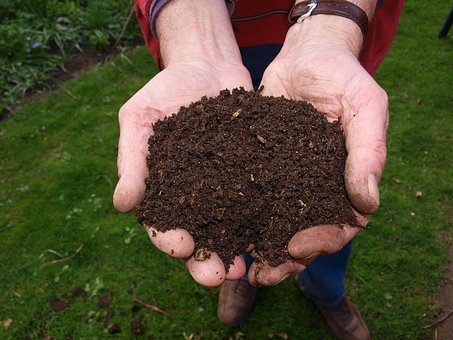 Visit the TRUE BLUE Gallery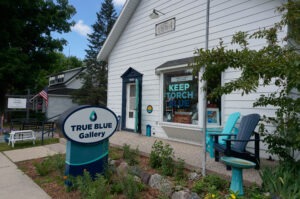 Open for 7th Season
Fall Hours
Thursday-Saturday
11am-4pm
Season closing day October 14, 2023
9046 Helena Road
Downtown Alden, MI
Don't just wish that Torch Lake will stay blue.
Choose a water-friendly lifestyle - make a difference!