Everything you always wanted to know about the Torch Lake Watershed but were afraid to ask.
 8000 BC
Year when the last glacier left Michigan
A mixture of glacial sand, clay and gravel still extends more than a mile below the surface.
76
Square miles
The area covered by the Torch Lake Watershed. Equal to 25,455 acres. 62% is land and 38% is water.
4,819
Parcels located in the Torch Lake Watershed
Less than one-third are located on a body of water.
40% are year-round homes.
47
Tributary streams
Flow into Torch Lake. Most of the water comes from Clam River. Spencer Creek, A-Ga-Ming Creek, Wilkinson Creek and Eastport Creek are also part of our watershed.
40% are year-round homes.
858,920,587,304+
Gallons of water held by Torch Lake
About 0.78 cubic miles (a block of water – ¾ mile x ¾ mile x ¾ mile). Our lake holds more water than any other inland lake in Michigan. It contains one-third of all of the water held by all of the inland lakes in our state.
352
Feet
The deepest point of Torch Lake is north of the outflow of Clam River. Torch Lake is the deepest inland lake in Michigan with an average depth of 142 feet. Deeper than Lake Erie.
34
Percent
About one-third of the 41 miles of Torch Lake shoreline is still in a natural condition. 66% is landscaped or has been altered with buildings.
1
Person
One person can protect Torch Lake. Will you be the one to make a difference?
Learn more in Caring for Water.
Visit the TRUE BLUE Gallery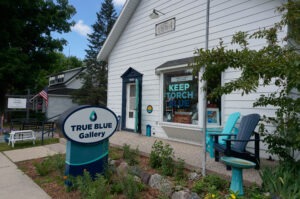 Open for 7th Season
Fall Hours
Thursday-Saturday
11am-4pm
Season closing day October 14, 2023
9046 Helena Road
Downtown Alden, MI
Don't just wish that Torch Lake will stay blue.
Choose a water-friendly lifestyle - make a difference!