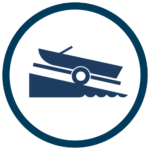 Boating Through Time: 1600s to 1920s
1600's – Native Navigators
The earliest native people traveled Torch Lake in dugout canoes. Later, the Ojibwe people built birch bark canoes. The Old Style was 13'9" long, 35" wide, 13″ deep and weighed 50 pounds. This longnose hunting canoe held a family of two adults, four children and their belongings. They also built 30 foot long cargo canoes to travel the Great Lakes and to carry war parties.
Birchbark canoe frames were constructed from cedar, which was used for the ribs, gunwales and prow. Panels of birchbark were sewn together with tamarack or spruce roots. The seams were sealed with pitch made from spruce gum mixed with deer tallow and black charcoal made from a maple log.
The French voyageurs traded for these canoes and used them for the fur trade throughout North America and especially in the Great Lakes region.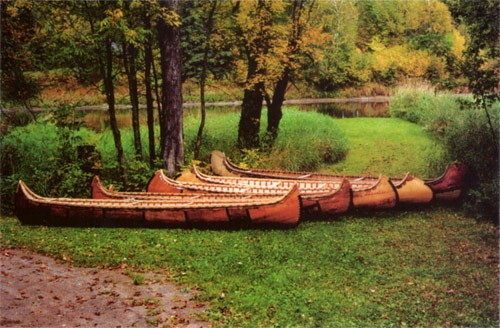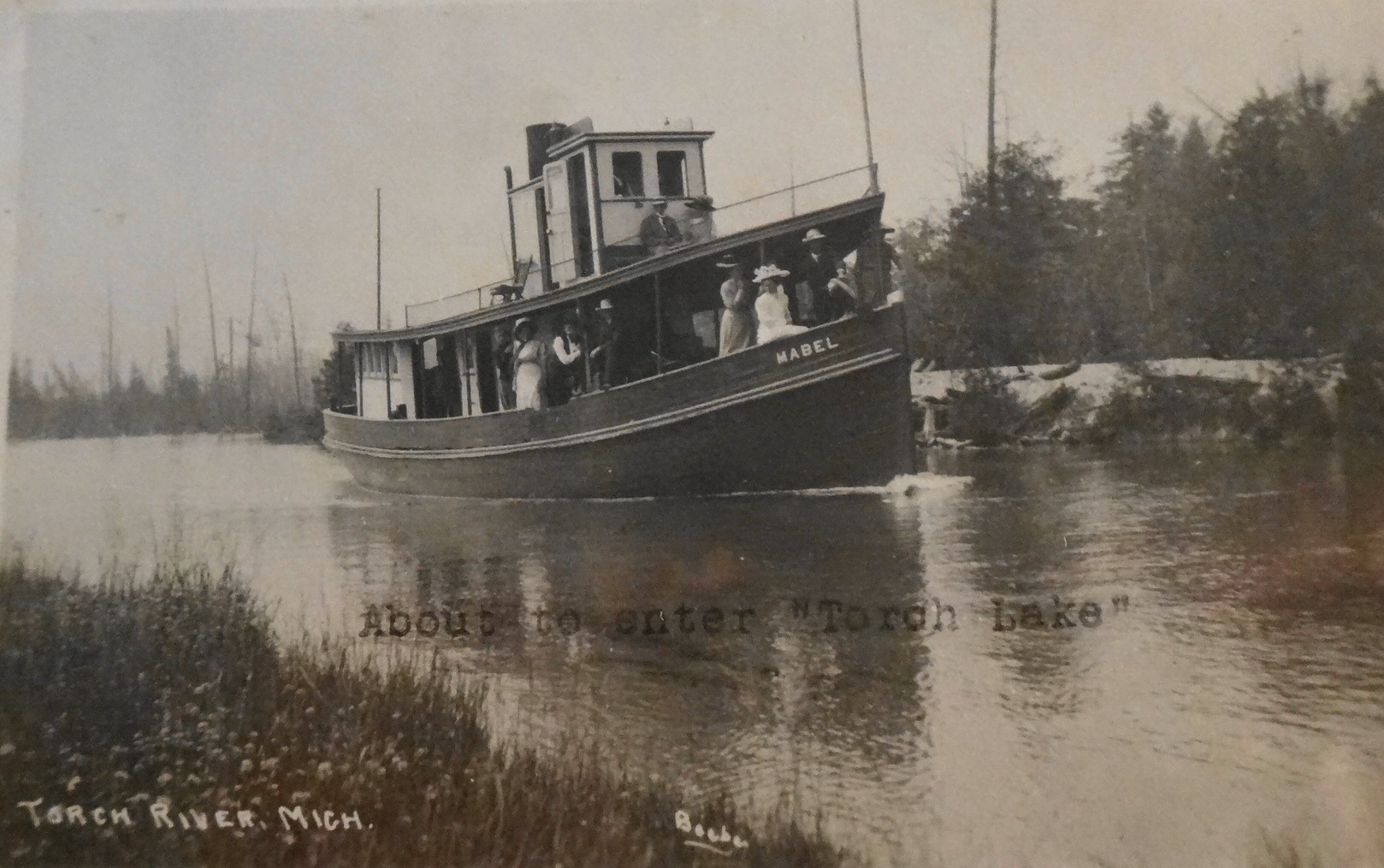 1800's – The Golden Years of Navigation in the Chain of Lakes
Beginning in the 1870's, steam powered boats were used on Torch Lake and throughout the Elk River Chain of Lakes. Reuben Coy owned a tugboat named the Albatross to haul goods from Elk Rapids to his general store in Alden. He also owned a two–masted schooner named the King Fisher that transported goods around Torch Lake and down river to Elk Rapids.
As the logging era began, tugboats towed wooden scows piled with logs from Bellaire to Elk Rapids and from port to port on Torch Lake. Boat crews removed logs and snags in the rivers and the tugs' propellers scoured the shallows making the river channels wider. Rivers were dredged and sometimes the course of the river was changed (Grass River and Clam River). Some of the tugboats were named Jennie Sutton, Torch Lake, Jennie Silkman and Little Western.
Dexter and Noble, lumber barons and business owners in Elk Rapids, owned an iron steamer called the Queen of the Lakes that hauled cargo and passengers on Torch Lake. They also owned a sailing yacht named the Oriole.
The first dam was built in Bellaire by Henry Richardi to control the flow of water, so the Grass River was high for the spring log drive down to Alden. The first bridge was built across Clam River.
A little side–wheel steamer named the Valley Queen made a daily trip from Bellaire, through Torch Lake to Elk Rapids. It drew 20" and carried 40 people.
Five steamers (Queen of the Lakes, Ida/City of Cheboygan, Ruth/Odd Fellow, Mabel/Bellaire and Maple Leaf) carried hundreds of passengers from Elk Rapids to Bellaire, stopping in Alden, Eastport, Torch Lake Village, Person's Harbor and Torch River on Torch Lake.
Two tugboats, Albatross II and Frank H. Petrie, also hauled cargo on Torch Lake.
Private steam launches became common. The Ella Silver was owned by S.M. Rose and the Grass Lake (also known as Goose and Mudhen) was owned by the Drayton Brothers.
Many boats were available for charter and offered frequent excursions in the evening and on Sundays, because there were no scheduled sailings on Sundays.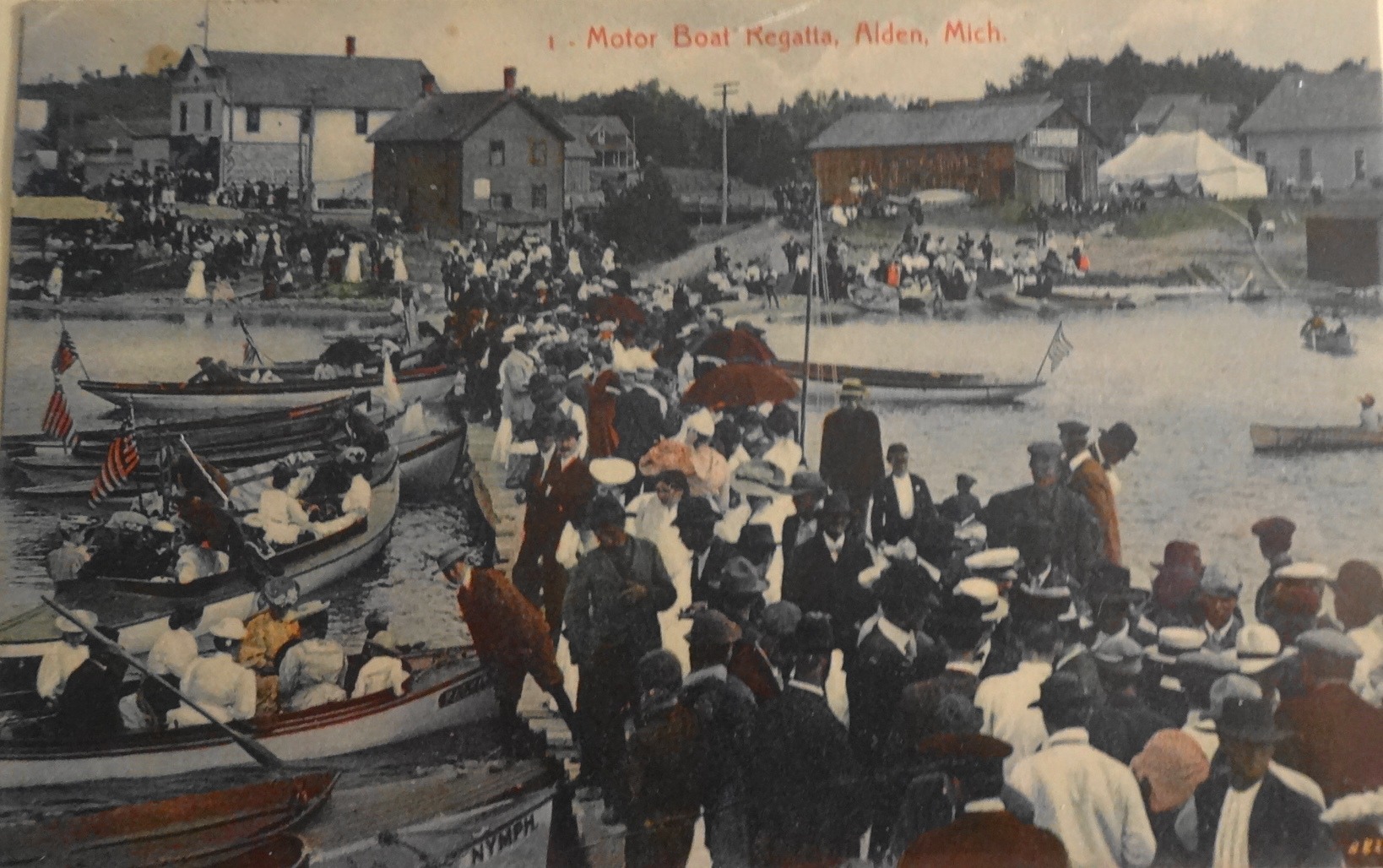 1900's – The Age of Wooden Boats & Regattas
During the early 1900's there was an Inland Lake Route Schedule to accommodate the growing tourist and resort trade. Additional cargo was needed due to agriculture, timber harvesting, manufactured wooden products in Bellaire, as well as iron and chemical production in Elk Rapids.
Conflicts continued between logging and steamer operations.
The Ida ran from Eastport to Elk Rapids and was replaced by the 58 foot Odd Fellow. It had an ample cabin, a canopy over the decks and a 30hp engine. The River Queen ran from Bellaire to Elk Rapids.
Steamers such as the Ruth/Odd Fellow and the Mabel/Bellaire scheduled stops in Alden (Spencer Creek) to coincide with the train arrivals to provide transportation to resorts and towns around Torch Lake. The Hattie K traveled a daily route from Eastport to South Milton and Alden.
Alden was a significant lumber port with a special harbor to serve the slab mill north of town. This harbor was located just north of the village dock. Slabs can still be found buried in the sand here. Spencer Creek provided power for a sawmill, gristmill and brick factory in Alden.
New swing bridges were built across Clam River and Torch River to allow larger vessels to travel the lower Chain of Lakes.
With increased tourism, cottagers and resorters began to purchase their own gasoline launches, row boats and canvas canoes. Crinisus owned by F.A.Hill and Seafarer owned by Morris Booth were two of the first private launches.
Motor launch regatta
1906 marked the year of the first motor launch regatta on Torch Lake. More than 200 people watched from the new village dock in Alden, while others lined the shore. Regattas continued for almost twenty years.
Iceboat regatta
The winter of 1907 brought local iceboats onto the lake and an iceboat regatta was held. Guy Armstrong had built his iceboat named Pop Up. The Crab owned by E. Rose, Skidoo owned by W. Chappelle and the Mancelona owned by J. Knight competed on frozen Torch Lake. The Mancelona traveled 5 miles in three minutes and twenty seconds or about 94 miles per hour.
Sailboat Regattas
In 1928, Bill Brake and other local craftsmen, built the Torch Lake Yacht and Country Club on Larson's Point. The Club sponsored the first sailboat races on the lake.
Camp Hay-O–Went–Ha was established as the first boys camp by the State YMCA camp in 1904. Sailing has been taught at the camp for 111 years.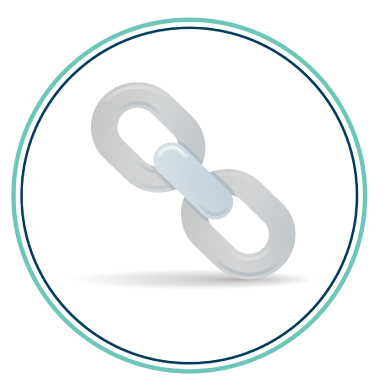 Cowles, Walter C. Cowles. Antrim Steamers.1997. Bellaire, MI: Walter C. Cowles.
McDuffie, Mary Kay and Edward R. Torch Lake: The History of Was–Wah–Go–Ning.2009. Torch Lake, MI: Megissee County Publications.
Don't just wish that Torch Lake will stay blue.
Choose a water-friendly lifestyle - make a difference!